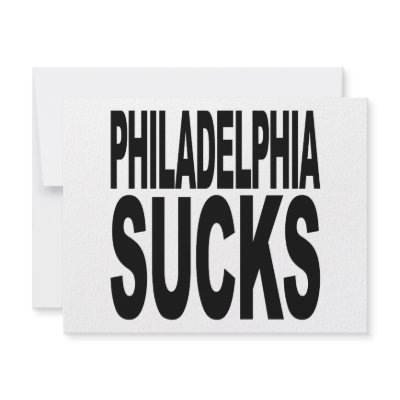 Something I penned while waiting for a train after a peculiar experience:
Let me give you some advice. Don't come here.

Don't move to Philadelphia. God no. That's a mistake. There isn't nothing good about this city no more. I'd be anywhere but here if I could. If I could I would, but I can't. So take my advice. I'm doing you a favor.

You're young. You have options. If you're smart, Philadelphia ain't one of them. You hear about the murders? All the drugs? I just hope you closed your windows, locked your doors and parked in a garage. 'Cause they'll climb in and wait for you.

Yeah, there's no reason for anyone to come here at all and definitely not live. Only drug addicts, gangsters and people like me who couldn't get out in this whole big ghetto.

It was about then that he asked me what I did.

Me? Well, I work for the tourism board.